Board of Directors
Meet the members of the Bernstein family who serve as the Board of the Foundation.
Ambassador Stuart A. Bernstein – President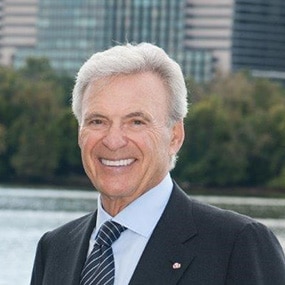 Currently, Stuart serves on the board of the Council of American Ambassadors. He is a Society of Fellows member of the Aspen Institute, is on the Board of the US Diplomacy Center Foundation, and is a Trustee of the Washington Institute for Near East Studies.
For over 50 years, Stuart Bernstein has been a recognized leader in real estate development and investment in the Mid-Atlantic region, with the focus of his business efforts centered in the Washington, D.C. area. In 2001, he was appointed by President George W. Bush to represent the United States as Ambassador to the Kingdom of Denmark, where he served with distinction until January, 2005.
A graduate of American University, Stuart was a member of the Board of Trustees of that institution for twenty years. In 1991, President George H.W. Bush appointed Stuart as a Commissioner of the International Cultural and Trade Center. The following year, in recognition of his achievements, President George H. W. Bush appointed him as a Trustee of the John F. Kennedy Center for the Performing Arts. He also served as a member of the National Finance Committee for the G.W. Bush Presidential Center, which opened in April 2013 in Dallas.
Stuart is a native Washingtonian. He and his wife Wilma have three grown children, eleven grandchildren, and eight great-grandchildren.
Richard D. Bernstein – Vice President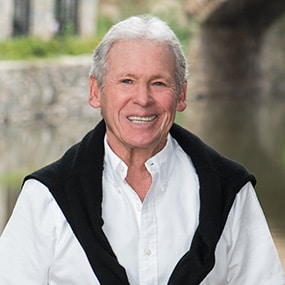 Richard D. Bernstein founded RB Properties, Inc., on January 1, 1979. Prior to that, his experience from 1962 to 1982 was in construction, title insurance, and banking. The philosophy behind the establishment of RB Properties, Inc. was to develop, invest, manage, and maintain the high quality and value of hotels and commercial real estate of historical and architectural significance.
Mauree Jane Perry – Secretary
Daughter of Leo M. Bernstein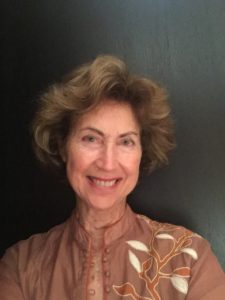 Mauree Jane Bernstein Perry is an editor and oral historian. Beginning her career in journalism in northern California, first as a writer and then editor, she was one of the first to launch a weekly column on aging issues, Coming of Age, which appeared in national newspapers around the country in the 1980s. She also served as editor-in-chief of The Aging Connection, a national publication for professionals in the field of gerontology. In 1994, she co-founded her own business, MAKING HISTORY, to create oral histories for individuals, families, and organizations.
Inspired by her family's commitment to philanthropy, Ms. Perry is involved in several organizations that emphasize her commitment to providing access for talented scholars to higher education, American democracy, and women's empowerment. She graduated from Vassar College and received her Master's degree from Harvard University. She and her husband, Mark, make their home in San Francisco, California.
Adam K. Bernstein – Treasurer
Grandson of Leo M. Bernstein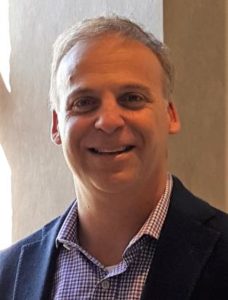 Adam Bernstein is President and CEO of The Bernstein Companies, a third-generation full service real estate investment and development company in Washington, D.C. The Bernstein Companies is a diversified organization investing in and operating commercial, residential, and hotel properties throughout the mid-Atlantic region. He is also President and CEO of Consortium Atlantic Realty Trust. In addition, he is a member of the Board of Directors of Pennant Park Investment Corporation, a business development company publicly traded on NASDAQ.
Adam earned his Bachelor of Science degree from The Wharton School of the University of Pennsylvania in 1985 and remains actively involved in the university. He was appointed to the Board of Overseers of the School of Arts and Sciences in 2013 and was honored by being appointed a trustee in 2018. Through these roles, he has contributed to the strong ties the university holds with the Washington, D.C. region. In all aspects of his life, Adam carries on a key legacy of his family's distinguished history by demonstrating a strong commitment to Washington, D.C, and to the community at large.
In addition to serving on the board of the Bernstein Family Foundation, Adam stays active in civic endeavors through his participation with Most Valuable Kids, Autism Speaks, and as of 2014, Team Turnaround, a non-profit that helps promote equity in education in underserved communities.
Adam is a fifth generation Washingtonian. Adam and Tracy have four children: Danielle, Liza, Brenner, and Thea.
Ami Becker Aronson, MPH – Executive Director
Granddaughter of Leo M. Bernstein
Executive Director, Bernstein Family Foundation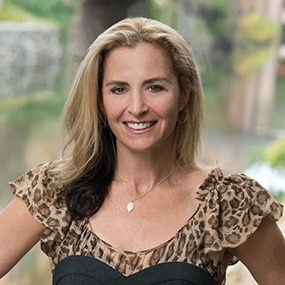 Ami Becker Aronson, an entrepreneurial thought-leader in responsive philanthropy, is the Executive Director of the Bernstein Family Foundation. She oversees the foundation's governance, grant-making, and communications.
Because of her forward-thinking approach and management skills, she has taken the historic Foundation into the 21st century through strategic planning and dynamic community engagement. Aronson's passion for exploring different points of view and her understanding of strategic alliances make her an ally for the Foundation within the greater community.
Engaging in ongoing critical dialogue with community leaders in the Foundation's three focus areas – Jewish Causes, American Democracy, and Arts & Culture – Aronson helps solve problems for collective benefit and impact. She combines a private-sector mindset with a non-profit understanding, allowing her to creatively bring innovative ideas to every organization.
Prior to joining the Foundation in 2008, Aronson worked actively to address global public health issues, including women's health, adolescent health, HIV/AIDS, substance abuse, violence prevention, and nutrition education. With over 18 years of experience in designing, implementing, and evaluating social marketing programs, Aronson leads with compassion and extensive knowledge. Her international experience in Africa, Asia, and the Middle East also influences her work.
Aronson currently serves on the boards of Halcyon House, THNK Foundation, Nature Sacred, the Weizmann Institute of Science Global Leadership Council, the World Learning Global Advisory Council, and the Meridian Leadership Council. She has also served on the boards of Sixth and I Historic Synagogue and the Environmental Working Group (EWG).
Aronson received her graduate degree in International Public Health from Hebrew University in Jerusalem and her undergraduate degree in Medical Anthropology from the University of California, Santa Cruz. She resides in Washington, D.C. with her husband and children.
Learn more about Ami's groundbreaking work in the area of Feminine Design Strategy here.
Grandson of Leo M. Bernstein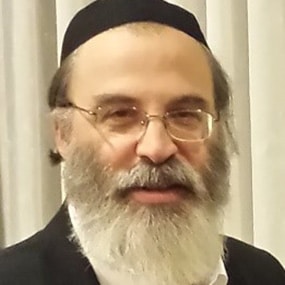 Rabbi Boruch Bernstein grew up in the Washington, D.C. area and currently resides with his family in Bnei Brak, Israel. Rabbi Bernstein devotes most of his time to learning Torah while still managing to participate in various philanthropic activities, including the Bernstein Family Foundation.
Rabbi Bernstein brings his knowledge of the Orthodox Jewish community to the Bernstein Family Foundation, continuing the Foundation's decades-long tradition of supporting Judaism in the Washington, D.C. area.
Alison Bernstein Shulman, MSW, IHC
Granddaughter of Leo M. Bernstein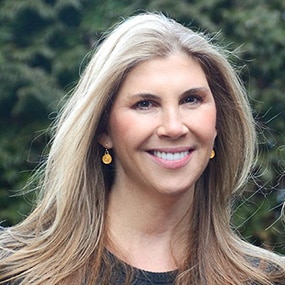 Alison holds an IHCC from Duke Integrative Medicine, an MSW from Catholic University, and is certified in Western Usai Reiki. She is currently consulting with schools and runs groups on Integrative Health and Mindfulness in the Washington, D.C. Metropolitan Area. She holds a Certification in Mindful Eating (CME) and is trained in Mindfulness-Based Stress Reduction (MBSR). She has a private practice in D.C., focused on problematic and disordered eating, overeating, binge eating, and restricted eating. She has developed curriculum for teaching Mindfulness and Integrative Health in D.C. Metropolitan Area Schools: Empowering, Slow Lunch, Project Connect, and Stress Fix 6.
Grandson of Leo M. Bernstein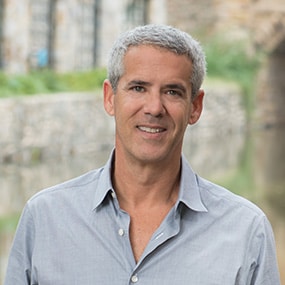 Entrepreneurial, self-motivated, and diplomatic, Mr. Bernstein manages and redevelops exceptional one-of-a-kind properties in Washington, D.C. He has an appreciation for the special needs of historic buildings and leverages his deep knowledge and understanding of the community of Washington, D.C., its historic architectural treasures, and the philanthropists who support its social fabric. Mr. Bernstein attended Pitzer College and also studied at Dale Chihuly's Pilchuck Glass School. He lives in Washington, D.C. and has two teenage sons, Jonah and Gabriel.
Granddaughter of Leo M. Bernstein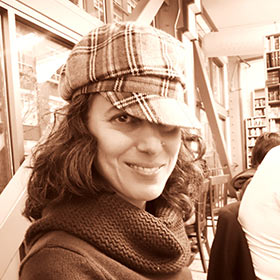 Tara Bernstein is the director and owner of University District Yoga, a yoga studio located in Seattle, Washington, where she presently lives. She is a certified Iyengar Yoga teacher and travels regularly to India to study with the Iyengar family and their senior teachers in Pune, India. Before opening her studio, Ms. Bernstein worked for the YMCA for 15 years and was involved with their annual fundraising campaign.
A graduate of Sarah Lawrence College, Ms. Bernstein spent 20 years choreographing and performing contemporary dance in New York as well as Seattle. Presently, she is on the Advisory Committee of New Dance Alliance (NDA) in NYC. NDA is an arts service organization whose mission is to actively promote emerging forms of innovative dance, music, video, and interdisciplinary performance. Tara was a grant recipient of the Washington State Arts Commission, Artist in Residence, and also performed with the AVA/Teri Dance Company in Washington, D.C. in the eighties.
Tara is grateful to sit as a board member on the Bernstein Foundation with her family, and to be a part of modern world philanthropy.
Grandson of Leo M. Bernstein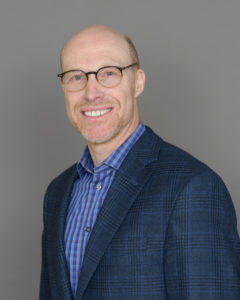 Shawn Becker, MD is an entrepreneurial physician executive who combines clinical insights with business acumen. As the founder and President of Silvercat Advisors, he provides strategic reimbursement and market access counsel for innovative medical device, diagnostic, and digital health companies.
Prior to founding his consulting firm, Shawn served as iRhythm Technologies' Executive Vice President of Marketing and Reimbursement, where he conceived and implemented commercial strategies resulting in >50% growth in product revenue. While at iRhythm, he built and led a payer relations team resulting in ~100M incremental covered lives, including Aetna, Humana, Blue Shield of California, and other commercial payers.
Previously, Shawn was Pathwork Diagnostics' Senior Vice President of Marketing and Reimbursement, where he launched a test to help patients with difficult-to-diagnose cancers. Shawn also co-founded PlanetRx.com, an online pharmacy that became the nation's #1 most-visited site in the online drugstore category, resulting in a successful IPO led by Goldman Sachs. Shawn completed his internship in primary care internal medicine at Massachusetts General Hospital after receiving his MD from UCSF, and has an AB in history and science from Harvard University.