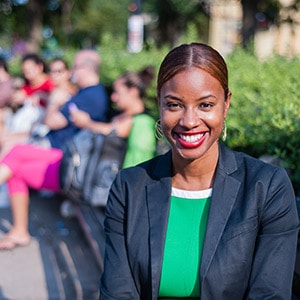 Eshauna Smith joined Urban Alliance in March 2013 and was named CEO in June 2014.  Her leadership in development, policy and advocacy, communications and strategic partnerships has helped position Urban Alliance as the premier advocacy organization for youth workforce development throughout the country.
Previously, Smith worked as a senior policy advisor in the Office of the Deputy Mayor for Education in the government of the District of Columbia.  There she led the development of Raise DC, the District's first cradle-to-career partnership focused on improving educational and workforce development outcomes for D.C. youth from 0-24.  Prior to that Smith was the founding Executive Director of the DC Alliance of Youth Advocates (DCAYA), where she built the organizational infrastructure and established the founding member-led policy agenda.  In 2010, she received the Humanitarian Leader Spirit Award from the National Center for Children and Families for her advocacy work with DCAYA.
Smith also worked in various capacities over the past 11 years to promote the healthy development of low-income women, women of color, youth, and their families through responsible philanthropy, research and messaging, nonprofit management, and policy reform.
Smith received her undergraduate degree from the University of California, Berkeley and a Master of Public Affairs from the University of Texas, Austin.