Sixth & I has grown to become one of Washington's most valued religious and cultural landmarks. With a non-denominational, non-traditional approach, the synagogue has welcomed thousands of people through its doors, and distinguished itself as a place of openness and engagement. By leveraging its grand space, Sixth & I has hosted some of the most venerable individuals at the top of their fields whether in music, politics, journalism, or literature. Bernstein has proudly supported its efforts for several years, and commends the dedicated work of its staff, including Executive Director and CEO, Esther Safran Foer, and Development Manager, Heather Koslov.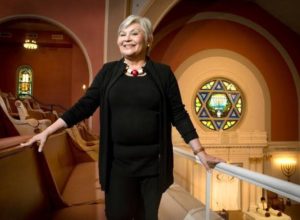 Esther Safron Foer
Sixth & I is a unique and forward-thinking synagogue that has challenged traditional institutional models. What was the mentality behind creating a non-denominational space?
Sixth & I is just a little over 12 years old. The building was synagogue, then a church, and was about to be sold and converted into a nightclub; it was saved at the very last minute by three Washington developers. The building had been looked at by other Jewish organizations who believed there was no need for another competing institution. Washington is a magnet for young Jews, and there was a huge population waiting to be served and willing to come, although on their own terms. We are grateful for those traditional institutional models, but the younger generation does not want to define themselves by denominations; they want to experience a Judaism they are comfortable with. Sixth & I evolved over time; we didn't know what we were doing, and that was the blessing: that we didn't know what couldn't be done.
Our greatest asset was our magnificent building, and we believed our seats should be filled for more than just the High Holidays. We tried various Shabbat alternatives and found a non-denominational prayer book that could be used with a variety of different types of services. The beauty of this prayer book was that it made everything equal – it had the Hebrew, the English, and a transliteration in an equivalent way. The first night that we did the service, 300 people showed up; we ran out of the 200 prayer books we had ordered. I stood at the back of the room crying with joy. That's when we knew our vision was not only going to work, but it would thrive.
How did Sixth & I become the cultural hub it is today?
Sixth & I is all about valued partnerships. We had to evaluate our assets and figure out how to leverage them for the benefit of the community. We thought hard about how we could use the 800 seats available in our sanctuary. I remember when I first came, I asked myself whom I would like to see speak here, and Michael Chabon came to mind. He was just coming out with a new book, so I contacted his agent-. When I learned his fees, I realized that it would be sustainable to bring in talent this way. But because he had a book coming out, it meant he was on book tour. So Rory Zuckerman, the wife of one of the founders, and I went to Politics & Prose and said, 'When you have a really big event, you rent a space. What if we give you the space and see what happens?' They had never done anything like this, but the owners were willing to give it a try. The event sold out, and We realized this was a model we could successfully develop.
The same thing happened with music. We developed partnerships with people who had access to great talent and needed a venue. Now, talent wants to come here, even when they have the option to perform at larger venues.
In addition to presenting events with partners, we produce half of our cultural events ourselves. We are at a point where if you have a big book coming out, and you intend to put Washington on your book tour, you want to come to Sixth & I. I am told that on a big night, we can sell more books than any venue in the country.
How did you make your way to working at Sixth & I?
The best things in life happen by accident. One of the founders called me and said, 'We just bought this synagogue and we're trying to figure out what to do with it. Would you be interested in helping us think about it?' I was in a different line of work doing public affairs consulting; I began as a volunteer, but Sixth & I soon became the client that took the most time. At some point, when things were not working here, the position was offered to me. I asked my kids what they thought. they said, 'Mom, you always told us to go for it, and this is your turn.' It has been an amazing ride, and I have loved every minute of it.
What major changes have you instituted since taking the helm?
There have been a few including hiring wonderful people and giving them the room to really run with their ideas. Another was realizing that the future is based on partnerships, and that we couldn't do it alone. We developed an understanding that there are so many young Jews out there, or 'adjacent Jews' as our rabbis call them, who want to explore Judaism. The traditional Jewish organizational model has been a synagogue model, which does not readily accept interfaith marriages, but this is something we are open to. If we had said no, there would be no rabbi involved, and if this is the setting they choose, then we have a shot at a Jewish family.
Last book you read?
I read more than I used to because I am exposed to so many amazing writers who come through here. I just read Irene and Abe: An Unexpected Life by Irene Pollin, which was a real pleasure because they were founders of Sixth & I. I did recently finish the galley for my son Jonathan's next book, Here I Am, which I highly recommend.
Greatest inspiration?
My mother. I see a woman who is tough, determined, caring, and the ultimate definition of a survivor.
Heather Koslov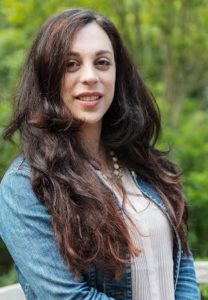 As Development Manager, what does your position entail?
My position here is different from anywhere else because we are a unique organization. My job is to secure the resources needed to support our programs. I manage many aspects of Development, from relationships with donors to writing grant applications and creating our mail appeals.
Each day here is unique – for example, today, I started with a call about our database in order to discover better ways to structure our data. Then I attended our weekly staff meeting, afterwards I met with our rabbis to discuss the language for a grant application we're submitting for a new program they want to do.
Many foundations provide general operating support to contribute to our bigger picture. Bernstein gives us a very generous grant every year, without which we could not do our Jewish Welcome Workshop. Sixth & I is known for being innovative – we take chances that other organizations might not. When our programs are successful, we serve a tremendous amount of people. Our staff has been trained to take smart risks, our organizational culture encourages experimentation; this yields valuabel learning experiences that result in better programs.
What do you think makes Sixth & I so successful?
Our partnership model helps us share costs and available resources with other local organizations, ensuring efforts are not duplicated. One of our best partnerships is with Politics & Prose. We buy all of our books from them, giving us the opportunity to support a local bookstore. We offer the benefit of our beautiful venue with 800 seats, so an author can sell 800+ books in one night. We also offer a very centralized, metro-accessible location. We work really hard to keep ticket prices as reasonable as possible.
We are lucky to have a staff that are really welcoming and a true pleasure to work with; they take wonderful care of our guests. Sixth & I has really developed a reputation for being a place that is opening, accepting, non-judgmental with a specific interest of serving people in their 20s and 30s. Unlike a lot of arts organizations that are struggling to get millennials through the door, we have already established that they're welcome here. We program things that people really want to hear about. Our staff takes the time to learn what resonates with people; often, that involves taking risks. For example, when we started programming podcasts, we thought, 'Would people come and listen to a live podcast?' Turns out that they love to do that.
What's on the horizon for 2016?
We have lots of new projects on the horizon! As part of the Jewish Emergent Network, we are bringing in a Rabbinic Fellow, Rabbi Suzy Stone. She will be with us for two years, leading classes and doing some new programming of her own. We have really exciting cultural events and concerts ahead on our calendar. For the High Holidays, we are currently working on our theme for the New Year. We take over three different buildings around town because we have so many people coming, and we offer many different types of services because that's what we do. We give people high-quality choices. That in itself is a major undertaking.
https://bernsteinfamilyfoundationdc.org/wp-content/uploads/2016/07/esther-safron-foer.jpg
451
615
bffdc
https://bernsteinfamilyfoundationdc.org/wp-content/uploads/2015/12/Berstein_Lo_FF-300x104.png
bffdc
2016-07-19 16:40:36
2016-07-20 16:52:17
Sixth & I Synagogue